Since 1976, Galbally Parker has operated as one of the best and most highly respected criminal law firms in Victoria.
Founded by Robert ('Bob') Galbally and Brian Rolfe, our firm was the first exclusively private criminal law firm in Melbourne and we are proud of our rich history defending our clients in all matters, from summary matters in the Magistrates' Court to complex Supreme Court Trials and Appeals in the Court of Appeal. Our team has acted in some of the most prominent criminal trials in Victorian legal history as well as unprecedented appeals. 
As part of our legacy, we have employed some of the most talented criminal lawyers and have invested in our staff. We are proud to see that former members of our team are now senior lawyers, Magistrates and Judges.
Brian Rolfe retired from practice in March 2013 after a long career, in which he mentored many lawyers who now occupy privileged positions within the profession.  Bob stepped back from practice in January 2019 and then ceased practice altogether in 2020. Ruth Parker has been our Principal and Director since 1 January 2019 after 12 years at our firm, having had the privilege of being mentored by Bob Galbally, Brian Rolfe and other senior practitioners who have worked at our firm and now occupy senior legal positions. 
Ruth is part of our history and now leads our impressive team into the future. We continue to innovate whilst we execute our philosophy that every person is entitled to the very best defence and representation in their criminal matters. That is what we provide and what we will continue to provide to our valued clients.
Address:  Level 8, 552 Lonsdale Street, Melbourne.
Nearest Train Stations: Flagstaff and Southern Cross Train Stations are both walking distance. 
Parking facilities are limited and there is currently a shortage on 'on-street parking' due to construction. We recommend parking at Southern Cross Station or on Little Lonsdale Street, which also has a multi-story car park.
Phone: 03 9670 8771
Fax: 03 9670 1594
We are a Melbourne legal institution with over four decades of history and experience. However, over the last 20 years, our reputation has preceded us and we have been called upon to appear and instruct in matters across all states of Australia.
In the last 10 years, we have been competitive in the Sydney market, primarily representing individuals charged with very serious charges and getting fantastic and well deserved results. We have a close association with the best barristers and experts in New South Wales. We utilise technology to maintain contact with our Sydney clients whilst minimising cost. Our mission is to secure our place in the Sydney market by opening a Sydney office and bringing our competitive, passionate and thorough service to you.
So watch this space! But don't forget, even if you don't see us, we are there and we are available to help you. Please explore some of the links below to see how our team has protected, serviced and advocated for our Sydney clients.
Read about some of our work in Sydney:
'Death threats, kidnapping and murder: The cost of being a criminal lawyer' by Ava Benny-Morrison, Daily Telegraph NSW, 27 January 2018
'Preparing for Prison'- 4 June 2018 – Interview with ABC Darwin's Afternoons Host Liz Trevaski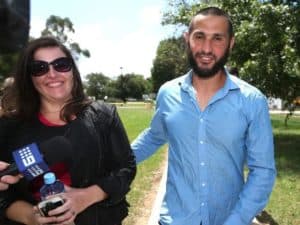 Ruth Parker walking our Sydney client, Mostafa Dib, out of custody in 2014, after he had his murder conviction overturned.