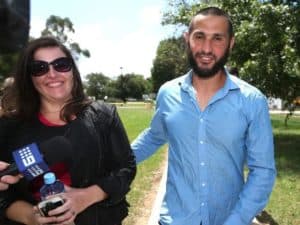 Ruth Parker walking our Sydney client, Mostafa Dib, out of custody in 2014, after he had his murder conviction overturned.
We are a Melbourne legal institution with over four decades of history and experience. However, over the last 20 years, our reputation has preceded us and we have been called upon to appear and instruct in matters across all states of Australia.
In the last 10 years, we have been competitive in the Sydney market, primarily representing individuals charged with very serious charges and getting fantastic and well deserved results. We have a close association with the best barristers and experts in New South Wales. We utilise technology to maintain contact with our Sydney clients whilst minimising cost. Our mission is to secure our place in the Sydney market by opening a Sydney office and bringing our competitive, passionate and thorough service to you.
So watch this space! But don't forget, even if you don't see us, we are there and we are available to help you. Please explore some of the links below to see how our team has protected, serviced and advocated for our Sydney clients.
Read about some of our work in Sydney:
'Death threats, kidnapping and murder: The cost of being a criminal lawyer' by Ava Benny-Morrison, Daily Telegraph NSW, 27 January 2018
'Preparing for Prison'- 4 June 2018 – Interview with ABC Darwin's Afternoons Host Liz Trevaski